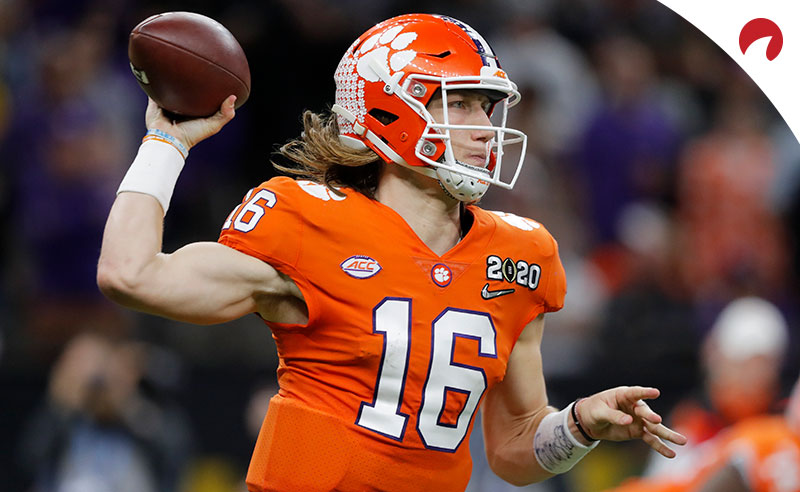 When it comes to odds on the 2021 NFL Draft, sportsbooks are united in projecting Clemson Tigers quarterback Trevor Lawrence to be the first player taken off the board.
Lawrence is the extremely heavy odds-on -5000 favorite at Bovada to be selected first overall in the NFL draft, followed by Justin Fields (+1200) and Penei Sewell (+1800) as the other candidates.
Looking for more information on the numerous ways to wager on the NFL draft? Check out our How to Bet On the NFL Draft article.
2021 NFL Draft Odds: First Overall Selection
Who Will Get Picked First in the 2021 NFL Draft?

| Player | Odds |
| --- | --- |
| Trevor Lawrence | -5000 |
| Justin Fields | +1200 |
| Penei Sewell | +1800 |
Odds as of January 19 at Bovada
Our Favorite NFL Betting Sites
Things can change incredibly quickly in football – just look at 2020 No. 1 overall pick Joe Burrow as proof of that. Burrow, who was considered a fifth- to seventh-rounder prior to his draft year, seemingly came out of nowhere to dominate the college football world in 2020.
Burrow flourished in his final year at Louisiana State, leading the Tigers to an undefeated regular season, an SEC title and a national championship. Burrow won the Heisman Trophy by the largest margin in the history of the award and broke several NCAA FBS records, including most touchdown passes (60) and highest passer rating (202.0).
QB-Needy Jaguars Set to Take Lawrence
Lawrence's resume is almost as impressive as his physical talent. Simply put, the 20-year-old has "franchise quarterback" written all over him, and NFL teams are chomping at the bit to take him in this year's draft.
Lawrence has been considered one of the nation's top collegiate signal-callers since the first half of his freshman season in 2018 when he took over for Kelly Bryant and led the Tigers to a national championship.
Clemson failed to replicate that success in the next two years under Lawrence, but it doesn't matter. It would be a major surprise if the Jacksonville Jaguars, who own the first overall pick in the 2021 draft, don't select Lawrence.
With Lawrence waiting, a litany of cap space available and ex-Ohio State and Florida head coach Urban Meyer in town, the future looks bright in North Florida. The chances of the Jags trading down in the draft or picking any other player are slim to none, and the odds indicate that.