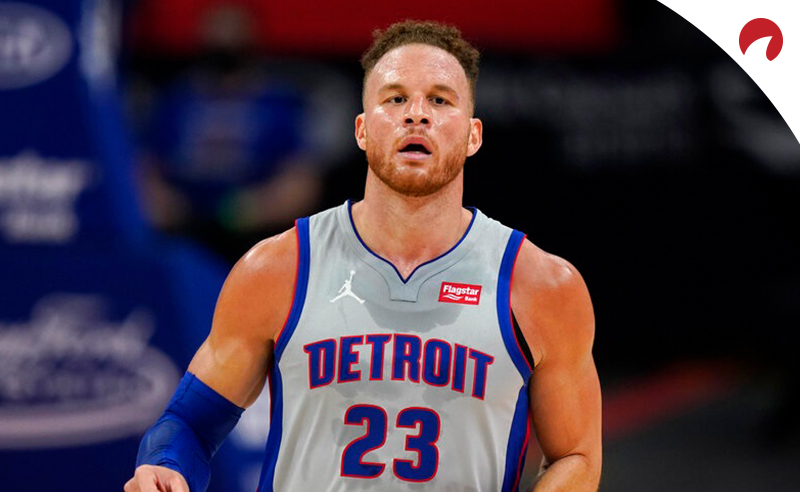 According to Adrian Wojnarowski, six-time all-star forward Blake Griffin has agreed to a contract buyout with the Detroit Pistons. This bomb means BG becomes an unrestricted free agent once he clears waivers at 5 p.m. Saturday, March 6. He can then sign with whichever team he wants. But before he lands with a top contending NBA team, let's take a look at Blake Griffin's next team odds, shall we?
See Odds Shark's Best NBA Sites
Blake Griffin Next Team Odds
| NBA Team | Odds |
| --- | --- |
| Brooklyn Nets | -200 |
| Miami Heat | +450 |
| Los Angeles Lakers | +850 |
| Los Angeles Clippers | +850 |
| Golden State Warriors | +1000 |
Odds as of March 5 at Bovada
Our Best Blake Griffin Bet
Now that you're aware of the odds to be Blake Griffin's next team, we bet you're dying to know who we see BG ballin' with next.
Why the Lakers Make the Most Sense
The end of Blake's career is an injury away, and he knows that. Why not take a page out of Steve Nash's book and head for the Hills? He would have the best odds of winning an NBA championship, and then he could simply sail off into the sunset somewhere. Perhaps he could reconcile his relationship with the Kardashians, team up with Tristan Thompson, and they could all come up with some huge new hit TV series, "Blake and Shake" or "BG and TT".
Blake Griffin in Beantown?
Speaking of the Boston Celtics, yes, they could also use a big. But rumors suggest the C's are far more interested in the likes of Nikola Vučević or Jerami Grant, who both make way more sense for them than a washed-up Blake Griffin.
South Beach for Blake?
Blake Griffin is not built for Miami. Pat Riley likes tough, gritty, athletic "dogs" who get after it and compete with an edge. Blake Griffin is not that. He's never been that, aside from his athleticism early on in his career before injuries occurred.
Blake Boroughs in Brooklyn?
Brooklyn is very interesting because the Nets don't play any defense whatsoever, which makes Griffin a great fit from that perspective. But the Nets are looking for a little more rim protection after sending Jarrett Allen to the Cleveland Cavaliers in the four-team trade that saw them acquire the talents of James Harden. Think of current Cavs Andre Drummond or JaVale McGee.
Warriors and West Coast Wonders
The Golden State Warriors and Portland Trail Blazers could both use Blake's passing abilities out of the high post, as well as his improved three-point range. But with a passion for entertainment, we're putting our money on Griffin going back to La La Land, only this time he'll have more of a Hollywood ending with the Lake Show, all while sticking it to their little brother. I mean, there's no way BG goes back to the Clippers, right? Plus, they would have to make a trade to clear out money because of the hard cap.