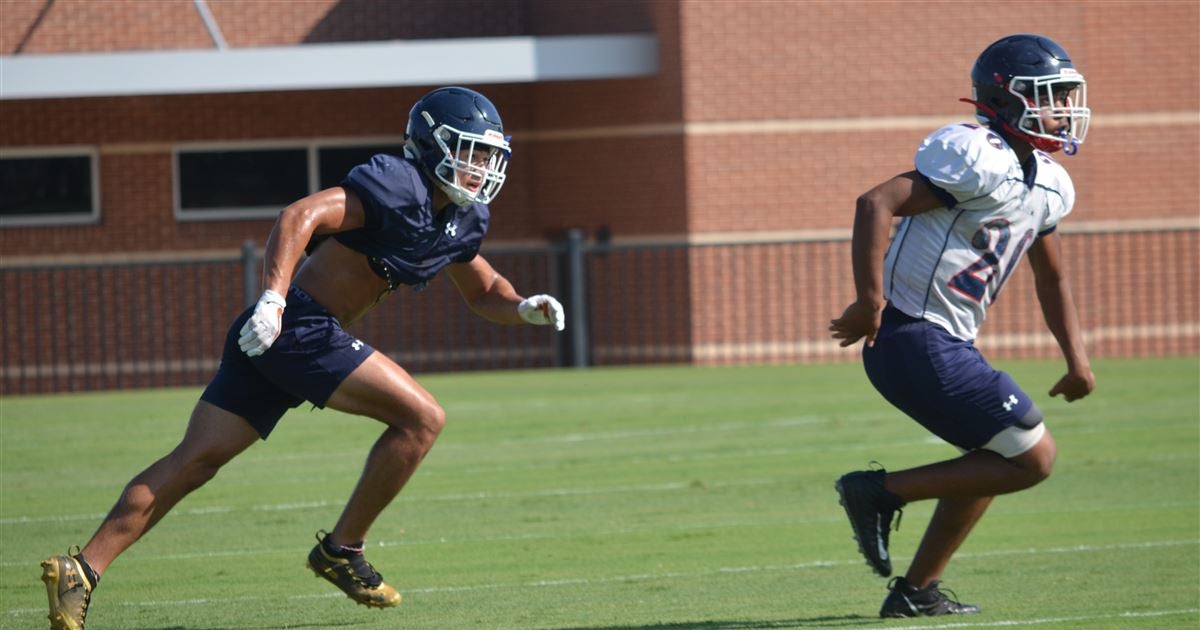 Billy Bowman, a high four-star prospect ranked among the nation's top three athlete prospects in the 2021 class, announced his decommitment Wednesday evening from Texas. The Longhorns had held the Denton (Texas) Ryan standout's pledge for more than a year. He originally committed July 31, 2019 to Texas.
"I've decided to take a step back, analyze my future and dream goals," Bowman stated in his decommitment announcement, which he tweeted around 7:15 p.m. CDT. "I want to thank everyone at the University of Texas for recruiting and believing in me. I will be decommiting and re-opening my recruitment. Thank you all for your support and prayers."
The industry-generated 247Sports Composite rates Bowman as a high four-star recruit who is ranked No. 33 overall in the country's 2021 recruiting cycle, as well as No. 3 nationally among 2021 athlete prospects and No. 6 overall in the state of Texas for his class. Bowman is ranked similarly in the Top247 rankings: No. 35 overall, No. 3 among 2021 athletes, and No. 5 overall in the Lone Star State's 2021 cycle.
Bowman has reported more than 30 offers during the course of his recruitment. Where he goes from here is to be determined. His list offers includes numerous high-profile programs from across the country, including schools such as Alabama, Auburn, Florida, Georgia, Notre Dame, Oklahoma, Oregon, Penn State, and USC, among other Power Five conference schools.
Bowman's Denton Ryan squad is 2-0 and ranked No. 1 in Texas Class 5A Division I. He teams with Texas commit Ja'Tavion Sanders, a 247Sports Composite five-star prospect, to give Ryan a dynamic pair of two-way prospects. Ryan features a number of FBS-bound prospects across multiple classes.
In two games, Bowman has run 11 times for 53 yards and one touchdown, while catching seven passes for 94 yards and two TD's. He starts both ways and moves around the field, as well as serving as one of the state's most dangerous return men.
Here's the 247Sports scouting report on Bowman: "Solidly built athlete who looks and plays larger than listed size. Frame-limited but looks the part getting off the bus. Legitimate high-major prospect on both sides of the ball at receiver and defensive back. Could play multiple spots in the secondary, slot receiver, or even running back based on build. Productive three-phase difference-maker for perennially strong Texas big-school program.
"Three-sport athlete with terrific track speed (10.84 100 as a sophomore). Athleticism manifests on the gridiron. Displays great functional agility with impressive close-quarters mobility. Top-end track speed evident in the open field. Plus ball skills thanks to well-rounded game. Provides great special teams value in return game and as a coverage option. Big-play machine who always plays the ball.
"May need to harness risk-taking at the next level. Can refine route-running as a receiver, as well as tackling technique and consistency on defense. Flat-out football player with outstanding multi-sport athletic profile and verified track speed. Possesses potential to become multi-year impact player at the P5 level with long-term NFL Draft ceiling."