November 23, 2020
Ian Simpson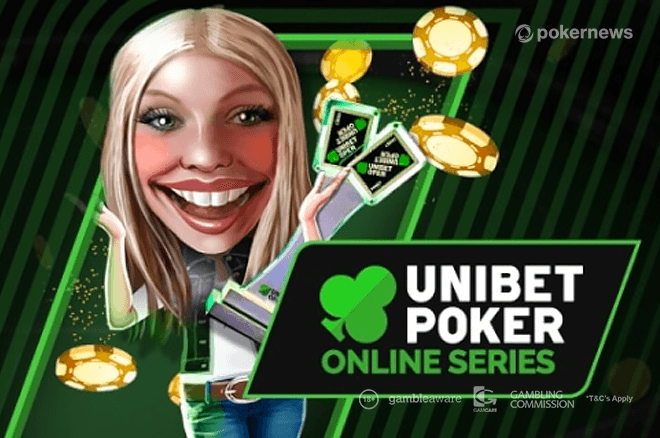 The Unibet Online Series X got underway this weekend. It runs until December 13 with 132 events and €32,000 to be won across three separate leaderboards. Unibet Poker Ambassador Ian Simpson is on hand to give us a closer look at how the Low, Medium, and High Leaderboards work, and how you should be making the most of their generous payouts!.
Unibet is about to provide its 10th iteration of the Unibet Online Series. I've taken part in all of them, but often family life means that I cannot play every event on the schedule and thus cannot get the maximum value on offer from the leader boards.
The leader boards get small changes from series to series, but they basically award extra money to you based on your performance. We provide four leader boards, Overall, High, Medium, and Nano. I've often had some FOMO when not being able to play an entire series because to get into the top three in prizes usually means playing every event.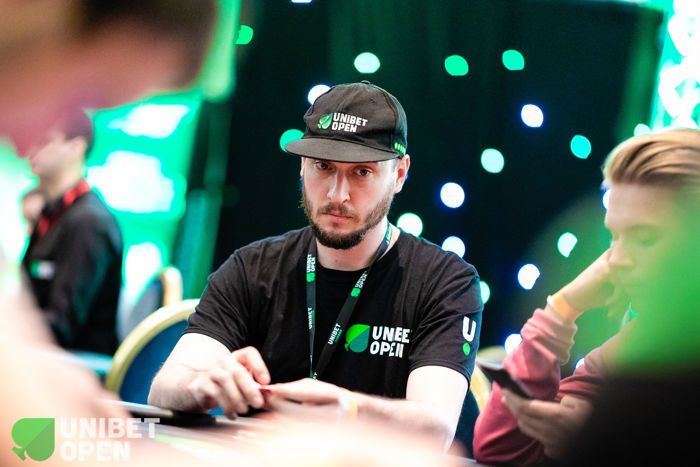 However, even if one cannot play every event, there's definitely still value to be had from the leader boards just by playing a good percentage of them. For the UOS IX we didn't run high buy-in events every day, so I scheduled my family life so that I could play every day there was a high event. UOS X will be the same, so I can play all of that leader board without missing out on too much family time.
Below you can see all of the events I played and the amount I cashed across the series. It's a small sample size, but it helps to highlight the added value the leader boards give even if you're not playing every event. I'd also like to point out that the Unibet Online Series has leader boards that fit all bankrolls, so if these buy-ins seem too steep for you, don't worry there's equivalent value to be had for all levels of play.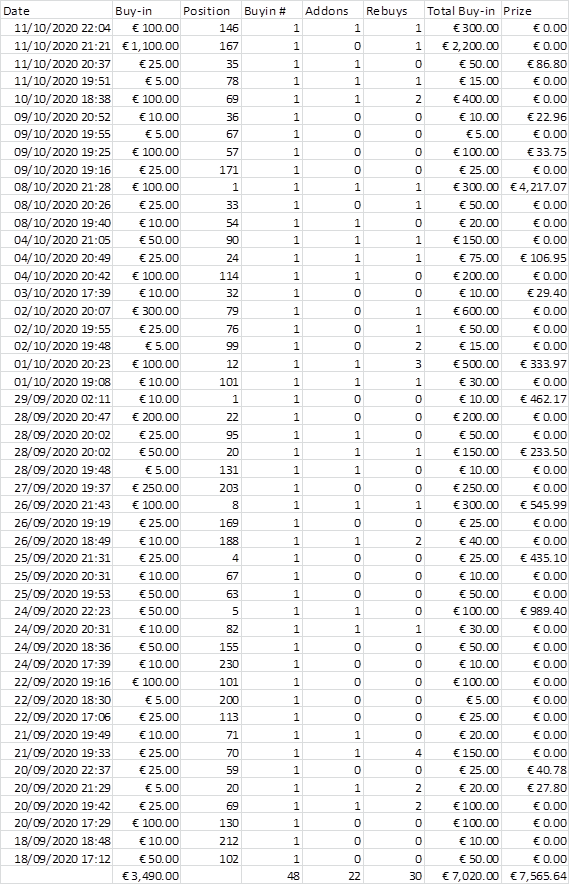 As you can see, I contributed €7,020 in buy-ins, and my total cashes mounted up to €7,565 for an ROI of 7.76%.
Take Advantage of Satellite Value
However, one juicy piece of value on offer in the lead up to a big series is the satellites. I won my first €1,100 Unibet Open Online Main Event bullet via the satellite route and also won some €300, €250, and €100 seats as well. Most operators give generous guarantees to their satellites, not minding giving some value to the players in the form of overlay. That combined with the apparent small percentage of players who have actually read the bible of satellite poker, Poker Satellite Strategy made my actual ROI a lot juicier than the below table actually shows.
"One juicy piece of value on offer in the lead up to a big series is the satellites"
I played 49 of the 88 events that contributed to the leader boards I was interested in. I skipped the nano events since they didn't count towards the Overall Leader board. I'd have loved to have played more of them, but time with my wife and daughter was particularly precious in the last months of my wife's maternity leave. That meant that the other competitors in the leader board played 39 more events than me. Despite that I still managed to place 21st in the overall leader board for €40, ninth in the high leader board for €150, 43rd in the medium leader board for €50, and 58th in the low leader board for €15 for a total extra reward €255. Ignoring the lucrative satellites easing the buy-in costs, that made my total return on investment 11.7%.
The winter season is the perfect time to stay indoors playing online poker, so the 10th iteration of the Unibet Online Series is definitely a spicy opportunity for pros and recreational grinders to enjoy online poker tournaments to keep warm!
---
Start Your Unibet Poker Career With This Awesome Welcome Bonus
Download Unibet Poker via PokerNews to receive to a welcome bonus worth up to €200. This bonus is released into your account when you reach certain rake milestones, which means you're constantly receiving more money as you play.
Once you rake €2 at the cash game tables or any tournament (or a combination of both), Unibet Poker places a €1 cash reward in your account. Rake €10 and an additional €4 cash is all yours. Once you've raked a total of €800, you'll have received €200 in your account, the equivalent of 25% cashback, which is a pretty sweet deal.
| Level | Rake | Cash reward | Reward % |
| --- | --- | --- | --- |
| 1 | €2 | €1 | 50% |
| 2 | €10 | €4 | 40% |
| 3 | €50 | €15 | 30% |
| 4 | €150 | €40 | 27% |
| 5 | €588 | €140 | 25% |
The welcome bonus expires after 60-days, which gives you plenty of time to release as much of it as you can.
It's not only the playthrough bonus you receive because new depositing players also get their hands on an invitation to four €500 welcome freeroll tournaments, an €8 cash game ticket, and four €4 Unibet Open satellite tickets.
Sponsor-generated content by Unibet Poker