$new_string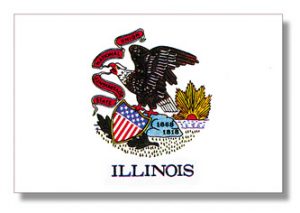 The state of Illinois is now considered the fifth largest legal sports betting market in the United States. The state saw bets to the value $140.1 million made in August this year at retail and online sportsbooks. This was an impressive 167% rise from just one month before, when $52.5 million was wagered in July.
An analyst for PlayIllinois.com said that August's results are testament to just how lucrative a market like Illinois truly can be.
"In-person registration was stunting growth, and that ended on August 21st," said Dustin Gouker, referring to the Governor's decision to change legislation, calling for players to register for mobile betting in-person at one of the state's casinos. In the last ten days of the month, players were able to register remotely for a mobile sports betting account.
Gouker also pointed out that FanDuel did not launch until the end of August and, even with that, Illinois found itself ahead of Colorado, which has matured much more quickly, and on the heels of Indiana, the US's fourth-largest sports betting market.
Illinois has the Major League Baseball, National Hockey League and National Basketball Assocation games to thank for such a strong August performance. Football did not contribute to the numbers.
Illinois Biggest Revenue Producers in August
The operator which produced the largest revenues was BetRivers/Rivers Casino which saw $118 million in online and retail bets in August 2020.
Lagging significantly behind but still the state's second-largest sports betting revenue maker was DraftKings, which saw $13.1 million in online bets made via its Casino Queen partnership.
Fan Duel launched on August 28th, but still managed to attract $4.2 million in bets.
Gouker said that BetRivers' head start gave the group a "massive advantage" that both Fan Duel and DraftKings have to try and overcome.
"But they are the two largest operators for numerous reasons, and it will be interesting to watch how long it will take for those two to eat into BetRivers' market lead," he added.
GAN, Wynn to Enter Michigan Betting Sphere
– FOR INFORMATIONAL PURPOSES ONLY –
RIGHTS RESERVED BY © POKERWEBSITES.COM OWNERS – ABOUT US
2008-2018 – Please consult a lawyer before playing online.
View Your State