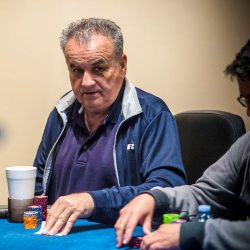 The new generation of poker players may not be familiar with Sam Grizzle, but those in the game for a decade or more have at least heard of him. He was one of the old-school players, one who had a distinct personality and a penchant for gambling.
At the age of 67, Sam Grizzle died suddenly this week. He had a stroke, which sent him into a coma, soon to the point of no return. His family pulled him from life support the following day.
Many in the poker community have been sharing stories and remembering him in the past few days. Meanwhile, his daughter is raising a significant sum of money through a GoFundMe campaign for a proper memorial and burial.
A Life Off the Poker Grid
There are few older poker players, ones who played actively long before the poker boom, that have remained a mystery. Most of Grizzle's life is just that – a mystery. After an extensive search, we found no bio or player profile that explains his family life or the early days of his poker career.
What we know is that he was 67 when he died this week, just short of his 68th birthday.
He seems to have one grown daughter, Alexa (Lexie) Grizzle, who had just recently celebrated her 20th birthday. According to her, he dropped down in game stakes in last few years to help support her and her mother, Gina.
"I had serious issues of my own," she wrote, "which devastated him, but he did everything he could to help me. I overcame my addictions with his support. He was so proud of me, and I remember him saying to me about a month ago, 'I can die a happy man knowing you're safe now.'"
may my dad Rest in Peace, I will never forget all the things you taught me and I promise you I'll never let you down as long as I live. We are two of a kind and I thank God that I was able to be here in your last moments.
Sam Grizzle 10/25/52-10/20/20 7:19pm. pic.twitter.com/WywbZnZ6jU

— lexie grizzle (@lilslitha2) October 21, 2020
A Poker Career
Grizzle's lengthy Hendon Mob page dates back to 1988, though it only reflects tournament action. He famously rode a roller coaster in the cash game world, but that is something for his friends to share if they wish.
His first tournament victory was at the Super Stars of Poker in Tahoe in 1989. He won the $2,500 NLHE event for $65,813. The final tables were frequent, and the wins continued through the years. Some of those wins took place at the Diamond Jim Brady series and L.A. Poker Classic in Southern California, Queens Poker Classic in Las Vegas, World Poker Finals in Connecticut, and the Jack Binion World Poker Open in Tunica.
Along the way, Grizzle made several WSOP final tables in Limit Hold'em and Seven Card Stud events.
In more recent times, Grizzle won a HORSE tournament at the Venetian Deep Stack Extravaganza in Las Vegas in 2011, and he made the final table of the 2016 WPTDeepStacks Main Event at the Seminole Hard Rock Tampa.
Just this summer, when the World Series of Poker took its action online due to the coronavirus pandemic, Grizzle logged on to the WSOP website from his Las Vegas home to play. He did quite well, starting off with a third-place finish in the $600 NLHE Monster Stack event for $77,725 and cashing in six other events.
Temper, Temper
Grizzle's passion for poker took different forms, not always pleasant. He was known for verbally sparring with numerous players over the years. On the other hand, his dry humor entertained opponents through the years.
One of his most famous feuds was with Phil Hellmuth. It started long before television audiences caught a glimpse of it on the 2003 WSOP Main Event broadcast on ESPN. Commentator Norman Chad explained that the two once famously argued at a Binion's poker table and took their issues outside. Grizzle punched Hellmuth in the face.
Per PokerNews, Hellmuth's side of the story included both of them landing punches.
[embedded content][embedded content]
Poker Community Contributes and Pays Tribute
It seems that Grizzle was playing an online poker tournament when he had his stroke.
Heres Sam Grizzle with the chip lead in his last tourney just 1 minute before his massive stroke! At least he went out on top! Prayers to his family in these tough times! #legend #prayers pic.twitter.com/MWNUWFBcSQ

— Mike Matusow (@themouthmatusow) October 21, 2020
His daughter said he suffered a "sudden massive hemorrhagic stroke" on October 18, and the bleeding intensified enough to put him into a coma. Not long after the medical experts pronounced him brain-dead, his family removed him from life support per Sam's wishes.
Grizzle officially died at 7:19pm on October 20.
As mentioned, Lexie established a GoFundMe to help her and her mother with funeral and burial costs. In just four days, she has raised more than $15,500.
She also took to Twitter to read some of the throngs of memories of her father. She also shared photos and video clips.
our last picture as a family ❤️ https://t.co/IDGvX2UUX1

— lexie grizzle (@lilslitha2) October 22, 2020
The memorial is likely to be in Las Vegas, but it is unclear if it will be open to the public, considering the pandemic. Meanwhile, the poker world continues to express condolences and share stories about one of poker's most entertaining players, Sam Grizzle.
RIP Sam Grizzle. I'll always remember Sam for trying to give Chip Reese information on how to play 7 card stud. An unforgettable person, he will be missed,

— Doyle Brunson (@TexDolly) October 21, 2020
R.I.P Sam Grizzle. Sam is the only person I know that had the ability to say the same joke for 20 years straight and still make you laugh. For sure a character in the poker world.

— layne flack (@back2backflack) October 21, 2020
RIP Sam Grizzle. In an interview w @ChadAHolloway, I gave Chad my favorite Sam story (I'll tweet it out). Whenever you played poker w Sam, you were laughing. He was one of the cleverest guys in poker and will be missed #RIPSamGrizzle https://t.co/YlTGSYI0iU

— phil_hellmuth (@phil_hellmuth) October 21, 2020
Sad to hear about Sam Grizzle passing.

He is without a doubt, the wittiest, funniest poker player I've ever sat with in my life.

His one-liners are legendary and you could fill a book with them.

RIP Grizz. https://t.co/9JS2DqxlMl

— Daniel Negreanu (@RealKidPoker) October 21, 2020
We were sitting next to each other a few days ago in a live 400 at venetian. We've been chatting, he wins a massive flip off me. Then he asks if ill take a pic of his stack and text to him because his phone is shit. lololololol. RIP

— Spicoli (@DannySepiol) October 19, 2020
Longtime poker player Sam Grizzle passed away this week. Here's an amusing Grizzle/World Series of Poker story told by Pokerati that I'll never forget. pic.twitter.com/0ATdPq7okp

— Brian Pempus (@brianpempus) October 23, 2020