After watching its neighbor to the east set sports betting and online casino records in October, Pennsylvania followed New Jersey's lead.
According to the latest revenue reports from the Pennsylvania Gaming Control Board, the Keystone State set records on several fronts:
Sports betting handle = $525,802,524
Sports betting revenue = $36,776,926
As is the case in New Jersey, the Pennsylvania online gambling and sports betting industries are thriving alongside the reopening of land-based casinos.
In fact, Pennsylvania and New Jersey have not only sustained their online gambling revenue post-lockdowns, but they've built on them. So, even though slot machine and table game revenue experienced double-digit year-over-year declines, 17.2%, and 13.4%, respectively, Pennsylvania's $96.5 million sports betting and online casino haul helped total gaming revenue rise 12.9% for the month.
Inside the Pennsylvania Sports Betting and Online Gambling Numbers
As the chart below shows, October was the third consecutive month that Pennsylvania set a new sports betting handle record. The industry also set a new revenue record, eclipsing the previous high-water mark set in January 2020.
On the online casino and online poker front, October was the third consecutive record-setting month.
Tax Revenue Is the Name of the Game
Despite a smaller population base, New Jersey's sports betting and online casino industries outperform their Pennsylvania counterparts. Still, it's Pennsylvania that comes out on top of the all-important tax revenue category.
As the chart below shows, Pennsylvania generated $96.54 million in online gambling and sports revenue compared to New Jersey's $151.95 million. But despite generating just 63% of New Jersey's revenue, Pennsylvania collected nearly twice as much tax revenue, $38.13 million compared to $21.49 million.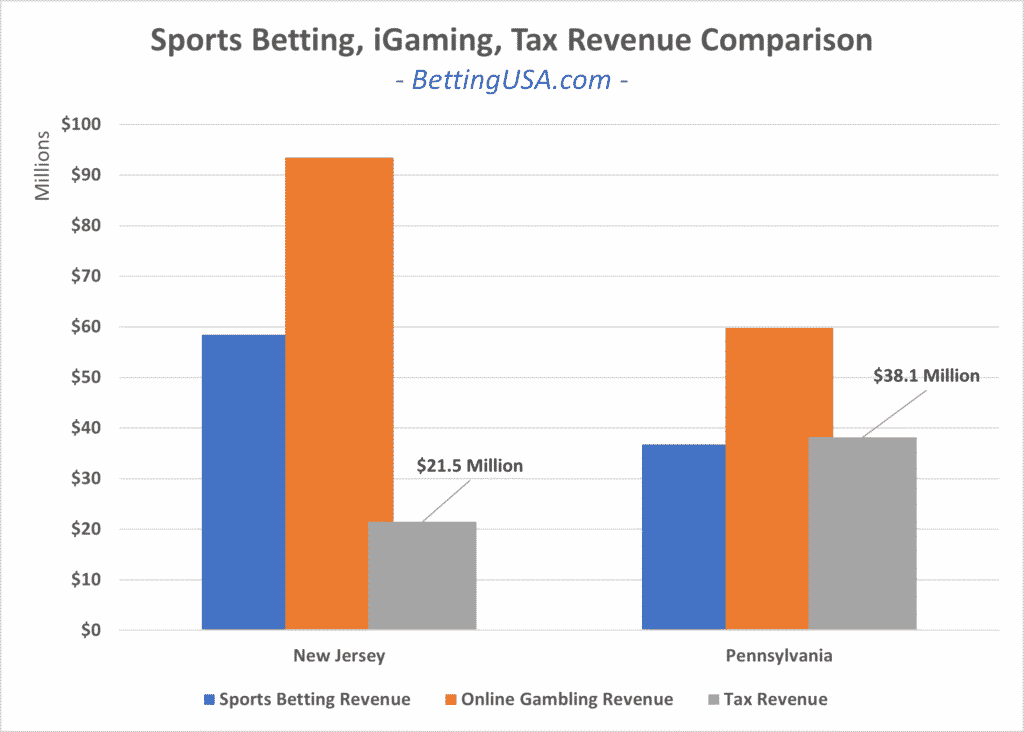 Barstool Slides Into the #3 Spot
Another important element in Pennsylvania is the presence of Penn National's Barstool Sports betting app, as the Keystone State is the only jurisdiction where the company's mobile betting app is live.
In its first full month, the Barstool app didn't disappoint.
Barstool finished the month in third place in handle by a wide margin. However, it looks like there was a lot of promotional spend included in that tally as it squeaked out third place in revenue despite its substantial handle numbers. Of course, that should be expected from a new brand in an already established market.
And as Eilers & Krejcik analyst Chris Krafcik noted, the company appears to not only be gaining market share but expanding the market in the process.