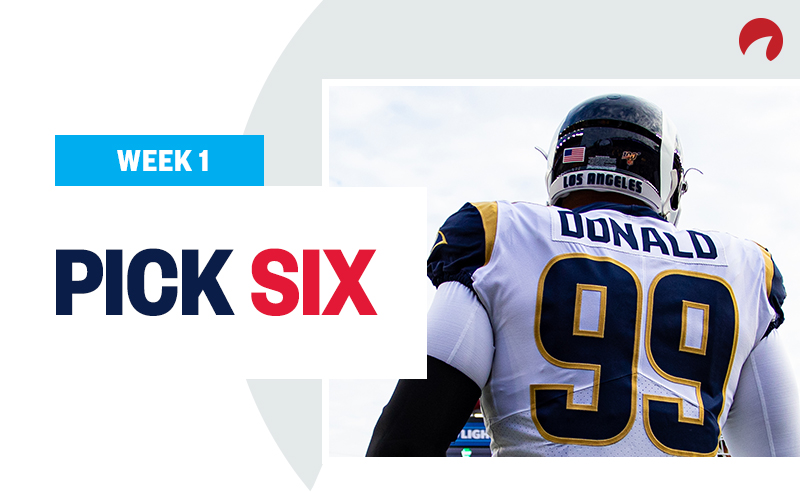 FOOTBALL IS BACK!! I think we can all agree that 2020 has been downhill ever since the Super Bowl but things are looking up with Week 1 of the NFL season on deck and I'm back this year for the Pick Six, where I give my six best NFL weekly bets.
There are a few games in Week 1 that really stand out for me, especially in terms of underdogs that I think have some skewed lines that we can take advantage of. I also have an UNDER play that I think is a lock.
If this is your first time checking out my picks or you aren't sure what to expect, here's how it works: Each week during the NFL season, I give you my six favorite plays on the moneyline, spread or total. All NFL betting odds below are courtesy of Bovada.
If you're looking for my prop bets or touchdown scorer picks, follow me on Twitter at @GDAWG5000 and all my prop picks will be there.
Also, if you want to tail (or fade) any of these picks and don't know how to, you can check out the best NFL betting sites to set up a betting account and read Odds Shark's How to Bet on NFL guide.
Here we go with Week 1!
---
Chargers -3 vs Bengals (-110)
This is one of my free picks with Odds Shark's Capper Cup and I'm so confident in the Chargers mopping the floor with the Bengals that I just had to include it as part of the Pick Six.
Look, I'm not going to pretend that the Chargers won't make me sweat this out because they're notoriously slow starters and have brain farts at the worst time but I'm banking on them because the Bengals just aren't very good. Sure, they've got some good receivers but they did nothing to improve a defense that allowed 26.3 points per game last year.
Not to mention they're starting a rookie quarterback who had no preseason games and minimal practice time. Feels like a blowout to me.
Chargers vs Bengals Game Center
---
Bears Moneyline vs Lions (+120)
Maybe I'm just a sucker for the Bears defense or I'm one of the last "Trubisky Truthers" but I think the only reason the Lions are favored is because they're playing at home.
The Bears swept the Lions last season in their two meetings and while Matthew Stafford didn't play in either game, he did play in 2018 and they got swept in both of those games too. Maybe the Lions and their improved defense give them a shot but I think they blow it at the end in a low-scoring affair.
Bears vs Lions Game Center
---
Browns +8 vs Ravens (-110)
The only team that beat the Ravens on their home field during the regular season last year, I'm going to ride with the Browns and see if this is the year they stop pooping the bed. On paper, the Browns have all the talent in the world to compete with any team in the NFL but too many penalties (29th in NFL last season) and horrible play-calling from former coach Freddie Kitchens doomed them from the start.
As for the Ravens, this isn't me saying they won't win this game. Their offense is so explosive and NFL MVP Lamar Jackson makes fools of defenders regularly. I just think this will be a much closer contest than the spread indicates and the +8 is a nice cushion for a game that I think comes down to one score.
Browns vs Ravens Game Center
---
Rams +3 vs Cowboys (-110)
It pains me to take the Rams in this spot as a Cowboys fan but I think, like every season, the Cowboys are getting overhyped. Much like the Browns, on paper, they should destroy teams. With a new coaching staff, fingers crossed they can put it all together but I think in Week 1, they shouldn't be favored by 3 points.
That's because, on the other side of the field, you have Sean McVay's Rams, who have had one of the most innovative offenses in football since McVay got the gig. Offensively, the Rams aren't as formidable as in years past but their defense is super-scary with DT Aaron Donald and newly extended Jalen Ramsey at cornerback. I'm really not certain how the Cowboys will be able to score more than 24 points so I think the Rams will cover and likely win this game outright.
Cowboys vs Rams Game Center
---
Panthers +3 vs Raiders (-110)
I flip-flopped between the UNDER and backing the Panthers but opted to go with the Panthers because I think the Raiders are chumps. Oakland, I mean Los Angeles, I mean Las Vegas got crushed to end the season last year, losing four of their last five games, three of them by double digits.
The Panthers, on the other hand, have a new competent quarterback with tremendous accuracy in Teddy Bridgewater, who can rely on the talents of RB Christian McCaffrey to chew up yards. McCaffrey easily could've won MVP last year with his sensational season and single-handedly carried the Panthers in games when they were starting Kyle Allen at quarterback.
Raiders vs Panthers Game Center
---
Steelers -6 vs Giants (-110)
The Steelers are one of my sleeper picks to make the AFC championship game over the Ravens and it starts in Week 1 when they get to play the Giants. Pittsburgh's defense is incredible and forces turnovers, which I think will be the difference-maker in this game.
That being said, there is a bit of caution considering Ben Roethlisberger's reconstructed elbow but with a healthy RB James Conner and WR JuJu Smith-Schuster, he likely won't have to bomb it downfield anyway to move this offense forward.
The Giants' only true weapon is RB Saquon Barkley, who will likely finish with 100+ yards rushing and a touchdown, but New York still has to rely on Daniel Jones to make plays and that's gonna be an issue. The Steelers should win by 10 or more.
Steelers vs Giants Game Center
---
Follow me on Twitter at @GDAWG5000 for more betting analysis and my weekly touchdown scorer prop picks. Happy Betting!