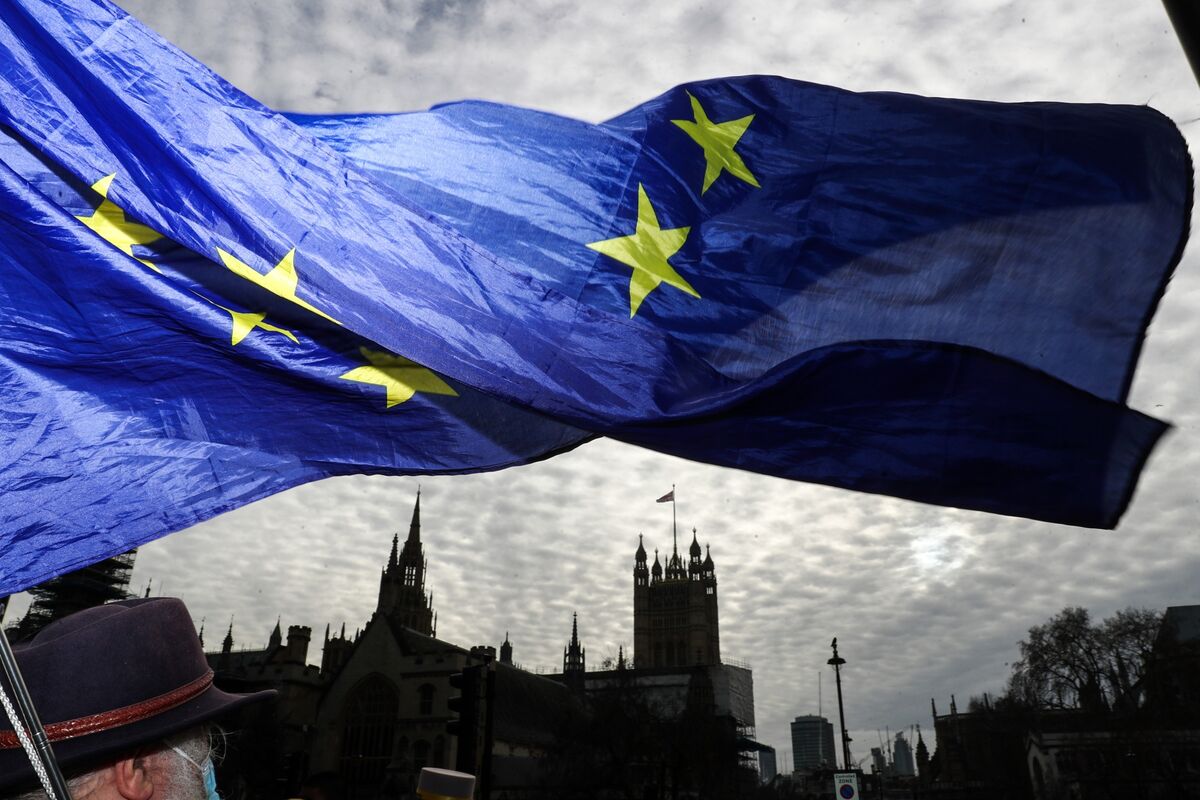 Sign up to our Brexit Bulletin, follow us @Brexit and subscribe to our podcast.
Prime Minister Boris Johnson and European Commission President Ursula von der Leyen agreed to allow negotiations over a post-Brexit trade deal to continue beyond Sunday's deadline.
"Despite the exhaustion after almost a year of negotiations, despite the fact that deadlines have been missed over and over, we think it is responsible at this point to go the extra mile," the two said in a joint statement after they spoke by phone on Sunday. "We have accordingly mandated our negotiators to continue the talks and to see whether an agreement can even at this late stage be reached."
Negotiations will coninue in Brussels.
Read more: EU Trade Offer Unacceptable, U.K. Government Official Says
Key Developments:
Johnson and von der Leyen agree to continue talks
Merkel says the EU is leading the negotiations for the bloc
Foreign Secretary Dominic Raab says supermarket shelves won't run bare
Merkel Says EU Is Doing the Negotiating (11:13 a.m.)
German Chancellor Angela Merkel said Germany isn't negotiating with the U.K. over a post-Brexit trade deal because the European Commission is leading the talks for the 27-member bloc.
"The negotiating position hasn't changed in any way, and the fact that the talks are not easy is clear," she told a news conference in Berlin, hours after the Mail on Sunday reported that U.K. officials blamed her for wanting to make Britain crawl across broken glass rather than compromise.
"Britain is leaving the internal market, and we of course need to make sure that there are fair conditions for competition in place if the legal situation between the U.K. and the EU moves further apart," she said. "Of course, I am of the opinion that we should try everything to get a result. That's obvious."
Talks Expected to Continue (10:45 a.m.)
Officials on both sides expect negotiations will continue after today's call between Boris Johnson and European Commission President Ursula von der Leyen.
Talks broke up at midnight in Brussels with some signs of progress, officials said, adding there was now renewed optimism that an agreement could be struck.
While technical negotiations continued between the two teams, the chief negotiators held talks in the Commission's Berlaymont headquarters, where they discussed a potential new solution to the disagreement over the level playing field.
Supermarket Shelves Won't Run Bare, Raab Says (10:30 a.m.)
Foreign Secretary Dominic Raab said supermarkets won't run out of food if a trade deal isn't reached — but he refused to deny that the government has urged them to stockpile key items.
"We're not going to see shelves running bare or any of the scaremongering stories we've heard", Raab told Times Radio. Asked whether the government has urged supermarkets to stockpile, he said: "All businesses with just-in-time supply chains have a process for managing their stock in ordinary times, in business as usual. The question is the extent to which it needs to be ramped up."
Raab added that ministers are "really making sure at every level within government and across Whitehall that we're on it in relation to all of these risks. We can't eliminate every risk. We can manage them and mitigate them down as best we can."
Call Confirmed (10:02 a.m.)
Raab: Signal Needed from EU on Fish, Playing Field (9:50 a.m.)
Foreign Secretary Dominic Raab said European Commission President Ursula von der Leyen needs to give Boris Johnson a signal that the bloc will alter its position on fisheries and the level playing field if the talks are to continue beyond Sunday.
"The bar is quite high for us to be able to keep talking," Raab told the BBC. "We would need, at a political level, a commitment to move on those two issues."
Johnson-von der Leyen Call Expected (9:45 a.m.)
Boris Johnson and Ursula von der Leyen are expected to speak at about lunchtime on Sunday, two officials with knowledge of the discussions said.
Labour: Johnson Playing 'Russian Roulette' (9:30 a.m.)
Boris Johnson is threatening to "blow up" jobs and livelihoods with his approach to the trade talks, according to the main opposition Labour Party's business spokesman, Ed Miliband.
"He is playing Russian roulette with jobs and livelihoods," Miliband told the BBC. "No deal is a disastrous outcome for the country. It's not a wonderful outcome. It's a disgrace."
Miliband also said Labour would be "minded" to support a deal if the government strikes one.
Ireland's Martin Sees Prospect of a Deal (9:25 a.m.)
Irish Prime Minister Micheal Martin said he still sees a chance the U.K. and EU will reach an accord.
Martin told BBC News on Sunday that 97% of the deal has already been struck, and that with "creativity," the disagreement over the level playing field could be resolved.
"The remaining 3% shouldn't be beyond the capacity of both sides to bridge," he said. "It would be an appalling failure of statecraft if we weren't in a position to get a deal over the line."
Raab Blames EU for Changing its Demands (9 a.m.)
Foreign Secretary Dominic Raab said there's still a "long way" to go for the U.K. to strike a post-Brexit trade deal with the EU as he blamed the bloc for changing its demands.
While the EU and U.K. have set a deadline of Sunday to decide on the future of the talks, Raab told Sky News he "can't close the door on" the talks continuing beyond this evening.
Fisheries and the so-called level playing field are the two main issues blocking the talks, Raab said, adding that the "goalposts shifted" from the EU side since the two countries struck the Withdrawal Agreement. He said the bloc is threatening any new relationship with the "torpedo of tariffs."
"We want to be treated like any other independent self respecting democracy," Raab said on Sunday in a Sky News interview. "If the EU can accept that at a political level, then there's every reason to be confident, but there is still I think, a long way to go."
U.K. Plans No-Deal Aid Package: Telegraph (Earlier)
U.K. cabinet ministers are working on 10 billion-pound ($13 billion) bail-out package to help hardest hit industries under a no-deal Brexit scenario, The Sunday Telegraph reported, citing unidentified sources familiar with the matter. The sectors affected range from sheep farmers and fishermen to carmakers and chemical companies.
EU Envoys May Hold Meeting on Sunday (Earlier)
Ambassadors from the 27 EU countries are tentatively planning a meeting to discuss the latest in the U.K. trade talks in Brussels on Sunday afternoon, a person familiar with the arrangements said.
The envoys are likely to be briefed by European Commission negotiators ahead of a Sunday evening deadline when the U.K. and EU say they will decide whether a deal can be reached or not.
— With assistance by Iain Rogers, James Ludden, Arne Delfs, and Tim Ross