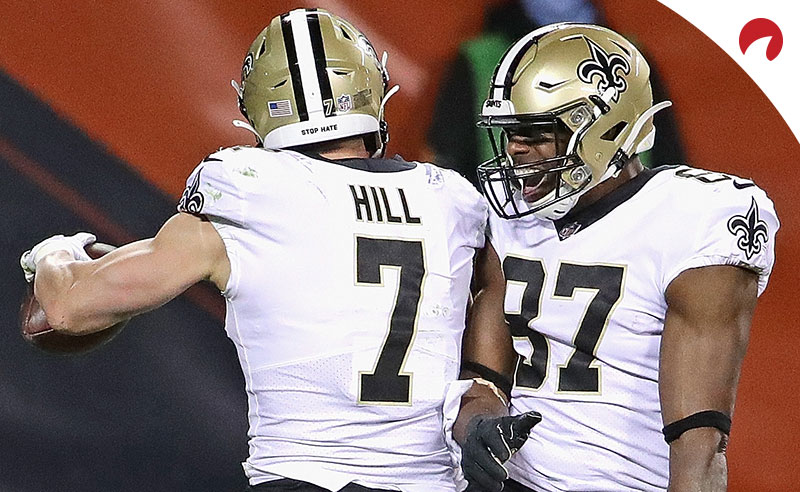 Looking for a one-stop shop when it comes to predictions on the gridiron this week? You've come to the right place.
Our NFL Betting Guide is here to break down the upcoming matchups to assist you in your handicapping. For outright Super Bowl 55 odds, check out our Super Bowl Futures article. To find the sportsbook that's right for you when it comes to NFL betting, visit our Best NFL Sites page.
Odds courtesy of Bovada
Carolina Panthers vs Minnesota Vikings -3.5, 51
Prediction: Carolina 30, Minnesota 27
The Vikings looked bad last week in a must-win game against the struggling Cowboys, so this week's clash with the Panthers is crucial if Minnesota wants to even think about making the playoffs.
Carolina is likely getting Teddy Bridgewater back to face his former team, and I like the Panthers to both win and cover here. Dalvin Cook will have a big day, but the Panthers offense does enough to combat that.
Tennessee Titans vs Indianapolis Colts -3, 51.5
Prediction: Indianapolis 20, Tennessee 13
In one of the biggest matchups of the week, this game is for first place in the AFC South. These teams met just two weeks ago, where Indy handily beat Tennessee 34-17 thanks to a dominant second half.
The Colts are rounding into form on offense and their defense ranks as one of the top units in the league. Tennessee's defense looked better last week, but I expect the unit to struggle once again in Week 12.
Arizona Cardinals vs New England Patriots +2, 48.5
Prediction: Arizona 37, New England 19
The Cardinals will enter this game with plenty of motivation after a bad showing against the Seahawks in Week 11. Arizona faces a long trip east to clash with the Patriots, but there's no question which is the better football team in this matchup.
New England's defense has been lackluster all season, which means Kyler Murray and DeAndre Hopkins will have plenty of room to work. Cards win big.
Cleveland Browns vs Jacksonville Jaguars +6.5, 49
Prediction: Cleveland 25, Jacksonville 10
Cleveland's running game has carried the team all year long, and another dominant performance from the two-headed monster of Nick Chubb and Kareem Hunt is on tap this week against the woeful Jaguars.
Jacksonville's defense was awful to begin with, but a rash of injuries have made the unit even more susceptible to opposing offenses. Mike Glennon is taking over for Jake Luton at QB for the Jaguars, but it won't matter. Browns win this one easily.
Miami Dolphins vs New York Jets +7, 44
Prediction: Miami 30, New York 17
Miami is playing its second straight road game and came back down to earth in a loss to Denver last week, snapping its five-game winning and ATS streak.
Tua Tagovailoa was benched against the Broncos and landed on the injury report on Wednesday with a thumb injury, but head coach Brian Flores said at a press conference on Thursday that he doesn't expect it to be an issue for the first-round pick.
If Tua can't go, Ryan Fitzpatrick will get the start against the Jets. It doesn't matter who's starting at QB in this game – it's the Jets. New York has nothing to play for right now and will continue its path for the No. 1 pick in the 2021 NFL Draft.
Las Vegas Raiders vs Atlanta Falcons +3, 54
Prediction: Las Vegas 34, Atlanta 24
The Raiders played well against the defending Super Bowl champion Chiefs last week, but a late comeback led by MVP favorite Patrick Mahomes sunk Las Vegas's hopes. Still, it was a good showing for the much-improved Raiders, a team that's making a case for a playoff spot in the AFC.
Next up is a date with the Falcons. Atlanta has played better under Raheem Morris, but motivation is clearly an issue for this team right now with it being so far back of the playoff mix. The Raiders get their seventh win on Sunday.
New York Giants vs Cincinnati Bengals +6, 43
Prediction: New York 13, Cincinnati 3
The season-ending injury to Joe Burrow has suddenly made this game seem unwatchable. Brandon Allen is likely to fill in at QB for the Bengals, but the drop-off under center will make for a regression for all of Cincinnati's offensive players.
Is it smart to back Daniel Jones as a 6-point favorite on the road? Not necessarily, but it's the play here. New York's offense will struggle but Cincy's will have an even harder time. Don't feel bad about skipping this one – there will be better games to watch on TV.
Los Angeles Chargers vs Buffalo Bills -5.5, 53
Prediction: Buffalo 31, Los Angeles 29
The Chargers will be well-rested coming off a bye, and a potentially high-scoring matchup with the Bills is up next. Despite possessing boatloads of talent, both of these defenses have struggled of late.
Josh Allen vs Justin Herbert is a fantastic quarterback matchup, but I'm going with the more experienced Allen here. The Chargers have a habit of keeping things close but failing to win games, so take the Chargers on the +5.5 spread.
Baltimore Ravens vs Pittsburgh Steelers -4.5, 45
Prediction: Pittsburgh 28, Baltimore 16
This game was initially slated to be the prime-time Thanksgiving Day game, but a slew of COVID-19 issues for the Ravens forced the NFL to push it to Sunday. Regardless of when this one is played, I'm confident in the undefeated Steelers to both win easily and cover the spread as home faves.
These teams are going in different directions. Baltimore needs to win this game badly but is likely to be short-handed. The Steelers beat the Ravens earlier this season on the road, and I'm expecting more of the same at Heinz Field.
San Francisco 49ers vs Los Angeles Rams -6.5, 45
Prediction: Los Angeles 30, San Francisco 25
Both of these teams are doing whatever they can to keep their postseason hopes alive, so both sides will have plenty of motivation to put forth a good showing in Week 12. The banged-up 49ers are coming off a much-needed bye, while the Rams edged out the Buccaneers 27-24 last week.
San Francisco is better than its record shows, but L.A. is the better squad. The Rams should pull out a win, but I'm projecting the Niners to cover considering Kyle Shanahan has had two weeks to plan for this one.
New Orleans Saints vs Denver Broncos +6, 43.5
Prediction: New Orleans 21, Denver 14
Taysom Hill will be making his first road start against a much better defense than the one he faced last week. Hill ran for two touchdowns against a pitiful Falcons defense, but things are going to be tougher for him this time around in the Mile High City.
Quietly, the Saints defense has been fantastic lately. The Saints have their eyes on a first-round bye in the NFC postseason, and the defense will be a big reason they get there while Drew Brees is sidelined.
Kansas City Chiefs vs Tampa Bay Buccaneers +3.5, 56
Prediction: Kansas City 36, Tampa Bay 24
The Buccaneers had a bad showing against the Rams on Monday Night Football in their third prime-time loss of the campaign. The good news for Tampa Bay bettors is this game is not in the late spot, but I still think Mahomes and the Chiefs take care of business on the road.
Chicago Bears vs Green Bay Packers -8.5, 45
Prediction: Green Bay 28, Chicago 10
Green Bay suffered a heartbreaking late-game loss to the Colts last week thanks to a costly fumble by Marquez Valdes-Scantling, and the Packers will go up against another great defense in Week 12.
The Bears are an incredibly tough team to trust due to their punchless offense. Mitchell Trubisky is going to get the nod under center as a result of an injury to Nick Foles, but I'm not convinced that's a good thing for the Bears. The Packers get back on track and win big against their rivals.
Seattle Seahawks vs Philadelphia Eagles +5, 50
Prediction: Seattle 31, Philadelphia 23
Seattle has had no issues producing wins in the City of Brotherly Love lately, as the Seahawks beat the Eagles in Philadelphia in both the 2019 regular season and playoffs.
The Seahawks can keep up with the best of them on offense, but the defense is a coin flip on any given week. The Eagles can't seem to get anything going on offense, so I think Seattle at -5 on the road is a relatively safe play.