January 22, 2021
Will Shillibier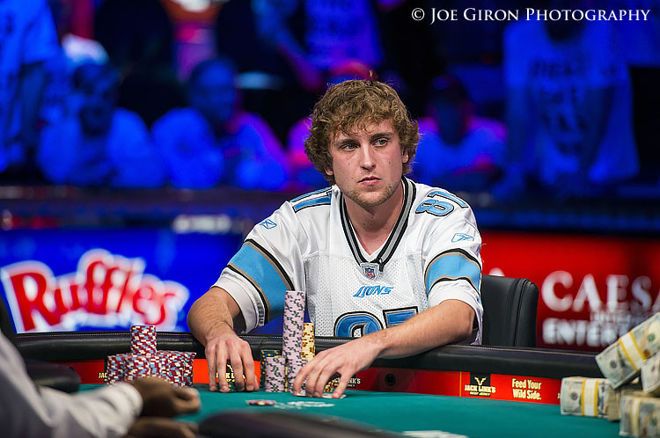 The NFL Playoffs are nearing their climax, with both Divisional Championship matches scheduled for this weekend.
As we look forward to Buffalo vs. Kansas City and Tampa Bay vs. Green Bay, we asked former World Series of Poker Main Event winner Ryan Riess to give us his take on the playoffs, as well as who he thinks will make it to the Super Bowl on February 7.
If you are in the United States and you plan to place a bet on the Super Bowl LV, listen to this: our sister site OddsChecker is giving away one $1,000 free bet right now. All you need to do to enter the promotion and win it is to leave your e-mail address on this page.
Get a FREE $1k Super Bowl Bet!
Register your e-mail address for your chance to win a $1,000 free bet – right on time for the Super Bowl!
REGISTER HERE
Riess is well-known for his performance in the 2013 WSOP Main Event, wearing a Detroit Lions jersey at the final table en route to winning more than $8.3m.
Wearing the jersey of six-time Pro Bowler Calvin Johnson, Riess defeated Jay Farber heads-up despite coming into heads-up play with 20 million fewer chips than his opponent.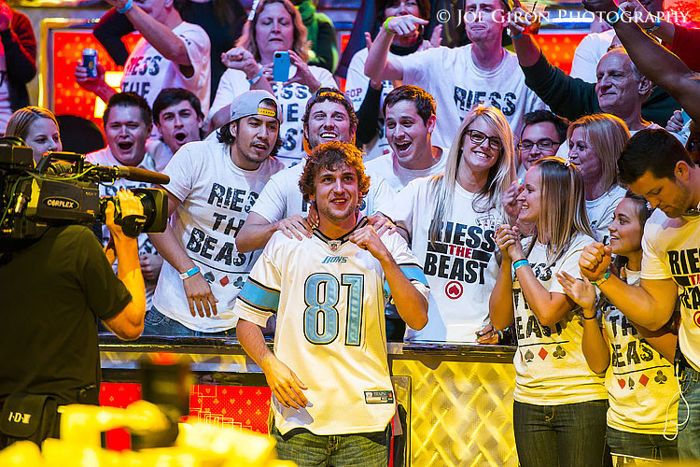 PokerNews caught up with Canadian after a busy Sunday of balancing the NFL Playoffs with competing in the WPT Montreal Online Main Event.
PokerNews: Hey Ryan, thanks for speaking with us. Well, we're down to four! At the start of the playoffs, would you have picked these four teams to make it to the AFC and NFC Championships?
Ryan Riess: No! I thought the Ravens were going to beat the Bills.

PN: We saw Patrick Mahomes taken out of the game at the weekend due to concussion. How worried should Kansas City be if he is ruled out of next week's game?
RR: I would say that Kansas City would need him, in order to have a chance against Buffalo. I think Kansas City should be super worried if Mahomes doesn't play next week.
PN: Does that mean you think the Bills spring an upset against a Mahomes-less Kansas City?
Check out Oddschecker US?
Register your e-mail address to win a $1,000 free bet – right on time for the Super Bowl!
REGISTER HERE
RR: The Bills can definitely spring an upset, but it's going to be tough assuming Mahomes is playing. Kansas City has so many weapons.
PN: In the NFC, what did you make of the Brady vs Brees hype surrounding their match at the weekend?
RR: I really liked the hype. They're obviously two of the best to ever do what they do. I think it reminded me a little of Peyton vs Brady a few years ago.
PN: Did Tampa Bay deserve the only upset of the round?
RR: I have to say I think Tampa Bay are really good. They definitely deserved the upset.
PN: All this means we will have another quarterback showdown next weekend with Brady vs Rodgers. Is this one more clearcut?
RR: The NFC Championship is going to be great. Another matchup of two of the best quarterbacks of all time
PN: So the million dollar question – depending on how much you're betting – who are your picks to make it to Super Bowl LIV?
RR: I'm going to pick the favorites this week. Packers vs Chiefs in the Super Bowl, with the Chiefs winning their second in a row!
---